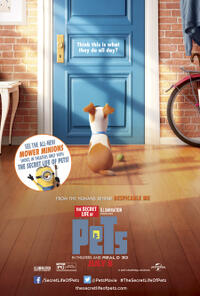 Released
July 8, 2016
PG, 1 hr 30 min
Animated
Comedy
17,201 Fan Ratings
SEE IT IN

35MM

Digital 3D

IMAX 3D
ENTER CITY, STATE OR ZIP CODE
GO
Fandango Fanalert™
Sign up for a FanAlert and be the first to know when tickets and other exclusives are available in your area.
Privacy Policy

What Parents Need to Know
Parents need to know that The Secret Life of Pets is a clever, engaging adventure about what our dogs, cats, birds, and other domesticated creatures get up to when we're not around. In the movie's case, it involves quite a bit of danger and peril -- which isn't what was showcased in the movie's promotional campaign. Main characters Max (voiced by Louis C.K.) and Duke (Eric Stonestreet) are frequently chased, sometimes on foot and sometimes in cars/vans/buses, which bang into things, crash, and catch on fire. They also dodge Animal Control officers; navigate dank, gloomy sewers; face off against an enormous viper and other predators/angry animals; and confront each other via barking, growling, yelling, and more. Animals discuss killing people (one anti-human animal character is impressed when others claim to have offed their former owners and detail how they did it). At one point it looks like a main character may not survive, and one bad guy dies in an altercation. There's some bodily function humor (a Chihuahua pees on the floor in excitement, dogs sniff each other's rear ends, etc.), a fair bit of insult language ("dumb," "stupid," "weirdo," "idiots," "cry baby," etc.), and one use of swear stand-in "holy schnitzel." But underlying all this are positive messages about friendship, teamwork, perseverance, and empathy -- as well as the futility of revenge and the importance of being open to new friends and the experiences that life brings. Max and Duke's relationship could particularly resonate with blended families and/or those dealing with sibling issues.
Educational value

Positive messages

Positive role models

Violence

Sexual

Language

Consumerism

Drinking & drugs