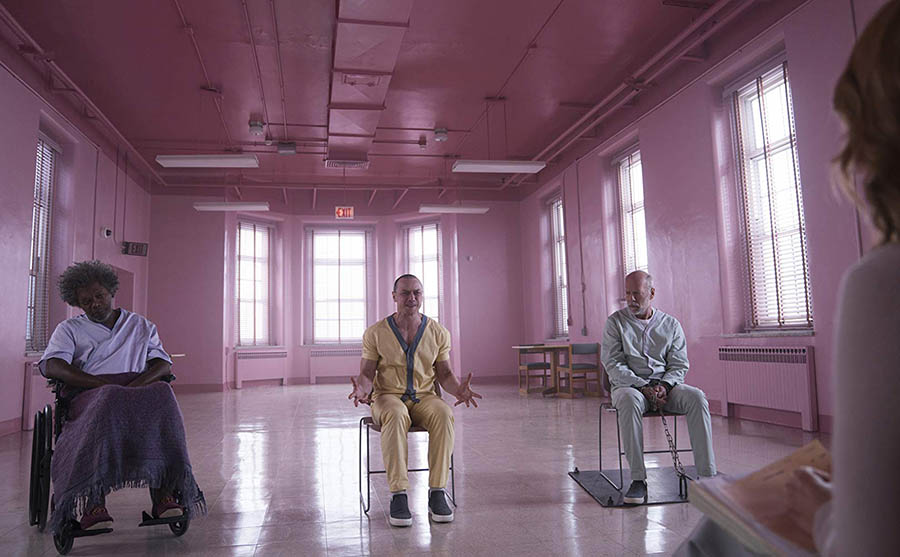 It's been 18 years since the release of Unbreakable, one of the most popular superhero movies not based on any comic book or other source material. M. Night Shyamalan had long teased a follow-up, and finally one arrived covertly as the 2016 thriller Split, which revealed itself as a secret spin-off in its final moments. Now, we're also getting a more direct sequel to both Unbreakable and Split, called Glass.
This one will see the return of Samuel L. Jackson's titular villain character from the 2000 original, as he joins his heroic nemesis played by Bruce Willis and fellow bad guy The Beast (a.k.a. The Horde), played by James McAvoy. All three appear in a new trailer just released by Universal, but this time the eponymous Mr. Glass takes center stage as an evil mastermind orchestrating a break out for himself and his "avenging angel" partner. Watch it down below after learning more about the movie.
Here's everything we know about Glass so far:
What's the story?
Bringing together Bruce Willis's super-heroic character David Dunn and Samuel L. Jackson's mastermind villain Elijah "Mr. Glass" Price from Unbreakable and James McAvoy's multiple-personality-afflicted killer Kevin Wendell Crumb from Split, Shyamalan's next fantasy thriller will involve a "kind of epic" clash between the good and evil characters. Here's the official synopsis:
Following the conclusion of Split, Glass finds Dunn pursuing Crumb's superhuman figure of The Beast in a series of escalating encounters, while the shadowy presence of Price emerges as an orchestrator who holds secrets critical to both men.
What happened at the conclusion of Split again?
Crumb, who killed all but one of his abductees, plus his psychiatrist, fled his Philadelphia Zoo hideout, sparing the life of Casey (Anya Taylor-Joy). Meanwhile, in a nearby diner, Dunn heard about Crumb's murders and realized he has a new adversary, perhaps his first in more than a decade. Watch a clip from the end of the movie:
If Dunn is going after Crumb (a.k.a. The Beast, a.k.a. The Horde), then what is Glass's involvement?
As the synopsis says, Mr. Glass is an "orchestrator," but we don't know what that means, exactly. Somehow he'll be manipulating Dunn and Crumb in their "escalating encounters" similar to how he caused disasters that revealed the existence of Dunn to him back in Unbreakable. "It almost sounds like comic book fan Elijah Price wants to see a superhero and supervillain duke it out," suggests /Film's Jack Giroux. It doesn't "almost" sound like that. It definitely sounds like that.
Are any other actors/characters from the two movies making an appearance?
Taylor-Joy's Casey will be back, though it's unclear in what capacity. And Spencer Treat Clark will also return as Dunn's son (no word on Robin Wright as his wife). There is also a new addition to the franchise, as Sarah Paulson was cast as a psychiatrist specializing in delusions of grandeur.
Will Glass be another small-scale superhero drama/thriller in the tradition of its predecessors?
According to producer Jason Blum in an interview with Collider back in May 2017: "The budget is more traditional, still by Hollywood standards a very low budget, but it is not $5 million." So we will probably get more action and possibly some bigger special effects set pieces than we saw in either Unbreakable or Split.
How else will the next movie be different?
We don't know exactly how, but in February 2017, Shyamalan said that he wants Glass to be able to stand on its own, like Split does, separate from Unbreakable. "In a way, it could be watched by itself," the director offered.
When does Glass open in theaters?
January 19, 2019.
Watch the second trailer for the movie:
Here is a new trailer appropriately focused on the titular Mr. Glass and his plan to team up with The Beast:
And here's the first trailer, from the 2018 San Diego Comic-Con: